Après Adventures in The Pass
July 29, 2021
We are probably mostly familiar with the après-ski. But what about the après-hike? Or après-bike? Personally, we think an après adventure is the best excuse for a snack and maybe a bevvy to go along with it – and let's be clear, you've earned it!
There is nothing quite like the feeling of getting to the top of the mountain and taking in the views. The cheeky grin you get from the people who pass you as they make their way back down, and the "Hello!" is always followed by "it's not that much further", while you sweat your way up. They are grinning because of the après adventures that await… they can taste it.
Now it's your turn - you made it. The joyous feeling of slipping off your hikers once you reach the car and sliding into your sandals. Or stripping off your biking gear and feeling a little lighter. Your trail mix and Cliff bars have begun to wear off – you need something more substantial. You've probably been thinking about what you're going to eat or reward yourself with since you reached the top. We've been there too, and we thought we'd share some of our favourite spots for an après adventure:
1. The RumRunner - It's tried and true. Offering a selection of cold beers on tap, wine and a stocked bar, this restaurant/pub in Coleman, AB is a fan favourite. Great pub fare is also on the menu, including meal-sized salads, pizza, burgers and more. It's the stop you make when you really need to refuel.
7902 20 Ave, Coleman, AB T0K 0M0

The Rum Runner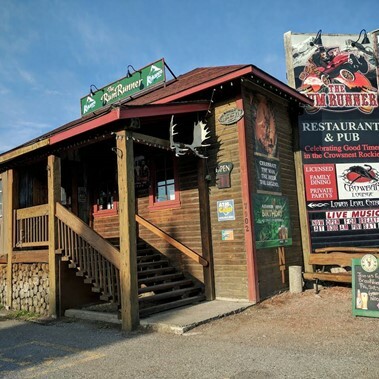 Photo: The Rum Runner
3. The Cherry on Top Bakery and Koffie shop – The newest bakery in Blairmore, AB, might just be the cherry on top of your adventurous day! Stop in for a late lunch and enjoy a homestyle soup and sandwich. Be sure to order from their wide selection of baked goods - you might as well take a few for the road too!

13149 20 Ave, Blairmore, AB T0K 0E0
4. Limber Pine Smokehouse and Taberna – For the meat lover! You've taken most of the day getting to this moment, and so have they – offering slow smoked brisket, ribs and chicken. This two-level tavern located right in The Pass is sure to be a memorable après adventure.
8329 20 Ave, Coleman, AB T0K 0M0
5. Crowsnest Candy Company Inc. – For the sweet tooth in the pack, stop in to The Pass' newest candy shop. They offer nostalgia and plenty of treats that are outside the box. There's no better way to close out your day!

13343 20 Ave, Blairmore, AB T0K 0E0

Come to The Pass to explore, stay for the après adventure. Check out these spots and many more using our EAT directory.