Explore Crowsnest: The Ultimate Mountain Stopover
October 10, 2018
Whether you're looking for the perfect weekend getaway or you just happen to be driving through, you'll want to reserve some time for exploring Crowsnest Pass this fall. Made up of five towns, each with their own unique history and character, The Pass offers an experience unlike any other.
Explore the prohibition era, step into the life of a miner in the early 1900s, or witness the natural disaster that occurred in Crowsnest Pass up-close. Suitable for all ages, The Pass has something for everyone, allowing visitors to experience history, culture and small-town charm all in one trip.
Beyond the incredible mountain landscapes and sweeping valleys here in The Pass, visitors will find an abundance of adventure, historic knowledge and delicious culinary delights, all within a short distance from each other.
Hillcrest
Despite being one of the worst mining tragedies in Canadian history, many people are unaware of the Hillcrest Mining Disaster. A stop in the town of Hillcrest will bring you back to the event that occurred over one hundred years ago, when a massive explosion, triggered by a pocket of methane gas, killed 189 people. To fully absorb the severity of this historic tragedy, visitors can head to the Hillcrest Cemetery where they can experience a short and informative walk that explains the events and its aftermath.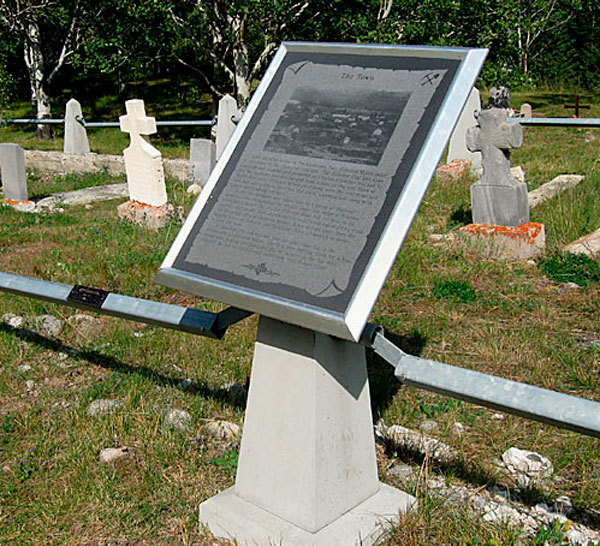 Bellevue
After immersing yourself in the history of the miners in Hillcrest, why not experience what life was like for them just across the highway? Strap on a headlamp and trek 1,000 feet into a mine and 100 feet below the earth's surface at The Bellevue Underground Mine Tour. This is a family-friendly adventure where you will walk in the miners' footsteps and experience an entire mine (almost) like it was in the old days.
When you finish up your mining tour, Bellevue is also home to the famous Old Dairy Ice Cream Shoppe – a delicious place that is bound to put a smile on everyone's face. The toughest decision you'll have to make here is, which flavour do you try?

Blairmore
The perfect spot to recharge and enjoy the equivalent of a hearty home-cooked meal away from home can be found in Blairmore. Side Trax Diner and Stone Throw's Café offer the rustic charm of small-town dining, complete with all day breakfasts, homemade soups, and sandwiches. Once you've fuelled up, enjoy a self-guided walking tour down Blairmore's main street. It has retained most of its architecture from the 1920s, making it feel like you've travelled back in time. Tour pamphlets can be found in the downtown heritage kiosk.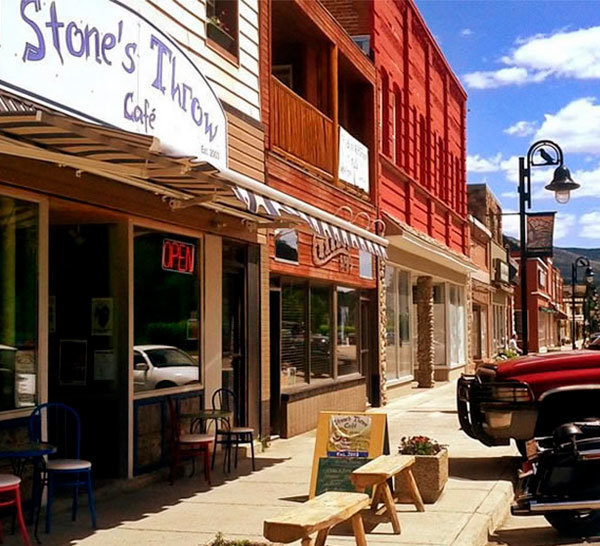 Coleman
You don't want to miss the Crowsnest Museum as you pass through the town of Coleman. Here you can learn about wildlife, pioneer life, and what it was like to serve in the military during WW1 and WW2. The museum offers guided tours of all its exhibitions and galleries as well as a walking tour of downtown Coleman. During the walking tour, you will learn about the prohibition era, a time when alcohol was illegal. This law, paired with a high demand of alcohol, created a black market in The Pass, resoling in a historic standoff between Filumena Costanzo Lassandro, her partner Emilio Picarriello, the 'Bottle King' of The Pass, and Constable Stephen Lawson. When Lawson questioned Emilio and Filumena about their black-market booze, they shot the Constable dead. Despite questionable testimony, the two were found guilty and sentenced to death by hanging. The APP Barracks building where Constable Lawson was murdered is still standing today, and is a highly recommended stop on the walking tour.

Frank
When passing through the town of Frank, it is next to impossible to miss the devastation that occurred during Canada's deadliest rockslide, when 82 million tonnes of limestone fell from Turtle Mountain. Visitors can get up close and personal with the giant boulders or head to the Frank Slide Interpretive Centre to see the view from the ground up, as well as will find interactive displays, engaging storytelling and HD movies to help you grasp the impact this slide had on the area.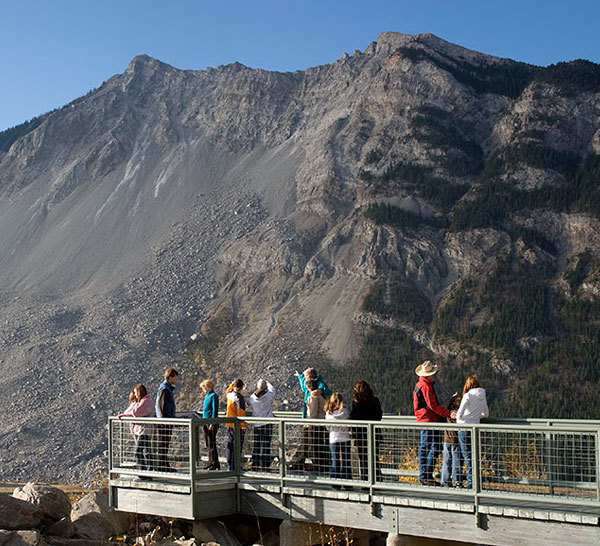 While it's easy to marvel at the views of Crowsnest Pass as you drive through, the history and culture hidden in these towns is surely worth the stopover. Trust us when we say you will want to pull over and take it all in.