Exploring Wildlife in The Pass
September 5, 2018
Beyond breathtaking scenery, fine dining, limitless adventure and history, you will find mother nature's most unique flora and fauna in The Pass, and there are so many different ways to explore it.
Whether you're looking for an educational experience with the kids, to submerge yourself in nature's bounty, or to expand your photography portfolio by capturing unique wildlife up-close, a visit to The Pass has everything you are looking for, and then some.
Crowsnest Pass is home to three distinctive ecological habitats. Sightseers can choose to delve into the grasslands, trek the scenic high alpine region, or explore the mixed forest area, all of which have a distinct array of wildlife.
A Bird Watcher's Paradise
A major drawing point to The Pass is the seasonal migration of Golden Eagles along the Livingstone Ridge. During their migration, which occurs in late August through to October, locals and tourists flock to the Pass as Golden Eagles coat the skyline – up to 5,000 in a single migration.
Other than the Golden Eagles of Crowsnest Pass, there is an abundance of rare and unique bird species unique to the region. The Crowsnest Pass Spring Bird Count, organized by Crowsnest Conservation Society, counted over 138 species of birds here over just two days. If you're looking to witness these species yourself, there are informational signs that line the birding paths of Crowsnest Community Trail.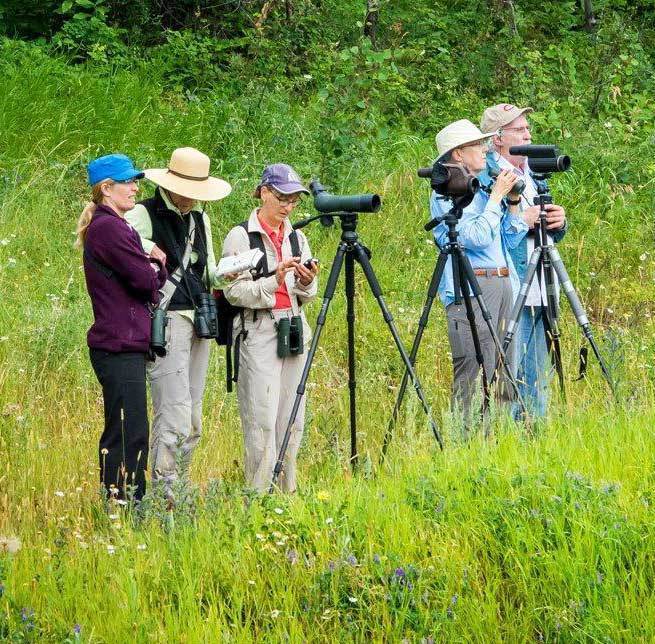 Fly Fisherman's Frenzy
Here in Crowsnest Pass, the rivers are filled with just as much diversity as the skies, so if you're looking for an exceptional day on the water, this is the spot. For experienced and novice anglers alike, Teeming with cutthroat, rainbow, and bull trout, as well as a variety of other fish, the Crowsnest River is a fly fisher's dream. In fact, the fly fishing in the area is so outstanding, it has been featured in National Geographic. Knowing the best place to catch the right fish is key; our friends at Alberta Fly Fishing Adventures can offer their seasoned guidance to ensure a memorable experience and successful trip.
Local Wildlife Photography
With a vast range of wildlife, The Pass is a photographer's heaven. Whether you're a professional, an Instagram star, or just like taking beautiful images, you won't be disappointed. The surrounding beauty has inspired the Launstein's – a local family of four nature photographers – to pursue wildlife photography, resulting in many prestigious international awards. When visiting The Pass, be sure to check out their work at the Launstein Imagery Wildlife Art Gallery.
Imagine walking the through the serene natural trails along the Crowsnest River and catching a glimpse of a river otter in his natural element. Or fantasize about enjoying a delicious picnic along the Livingstone Ridge as you breathe in the fresh mountain air and watch the Golden eagles of Crowsnest Pass take flight.
Here in Crowsnest Pass, you don't have to imagine. Find yourself amongst natural habitats and free roaming animals, in a place that is truly wild.