Meet Marten
February 8, 2022
Marten, a recent Crowsnest Pass transplant who has fully immersed himself in the community and the beauty of The Pass.
He is a man of many passions and talents that all shine through when you talk with him, especially his love for the community in The Pass and his affinity for being outdoors. His Instagram,@CF_Adventurerlife offers a glimpse of the active life he leads, while he is also an ambassador for both Norco Bicycles and Polaris snowmobiles. We wanted to learn more about what living life in The Pass is like and see it through the eyes of a local snowmobiler.
His love for the outdoors has been with him for most of his life. Marten was diagnosed with Cystic Fibrosis (CF) at a young age. He found that being in the mountains and the fresh air was the best therapy not only for his lungs, but for his overall quality of life. Marten is the inventor of The Monarch Airway Clearance System, a revolutionary technology that provides therapeutic clearing of the airways. His invention has enabled many diagnosed with CF to live full lives, while also advocating to lead a healthy life through exercise.
We took some time to chat with Marten about his active lifestyle, living with CF and exploring Crowsnest Pass:
Q. Do you live in the Crowsnest Area or just spend much of your time there? 
I live here now, I moved here about two and half years ago. I am actually from Taber, we used to always come out here for the summer to a recreational spot. We had a second home here for a while and then when COVID hit, my family and I decided to stay full-time.
Q. Aside from snowmobiling, we see you're an avid mountain biker, too?
Yep! I ride mountain bikes in the summer, and kite board. And snowmobile in the winter.
Q. How did you get so passionate about the outdoors?
A lot of it started because I have a disease called Cystic Fibrosis. Growing up, the way I fought the disease was through exercise and I really found a love for the outdoors, originally it was a lot of wind surfing and kite boarding, I spent a lot of time at Old Man damn, just outside [of the Pass] and then when I bought a house here, it warped into mountain biking, and I've been sledding for a long time. But that active lifestyle would clean my lungs out and keep me alive. CF is a disease that can really attack a young person basically in their teens and 20's, you have to fight hard to keep your lungs clean every day. I want people to not waste their life and not waste a day and that's why I always am outside.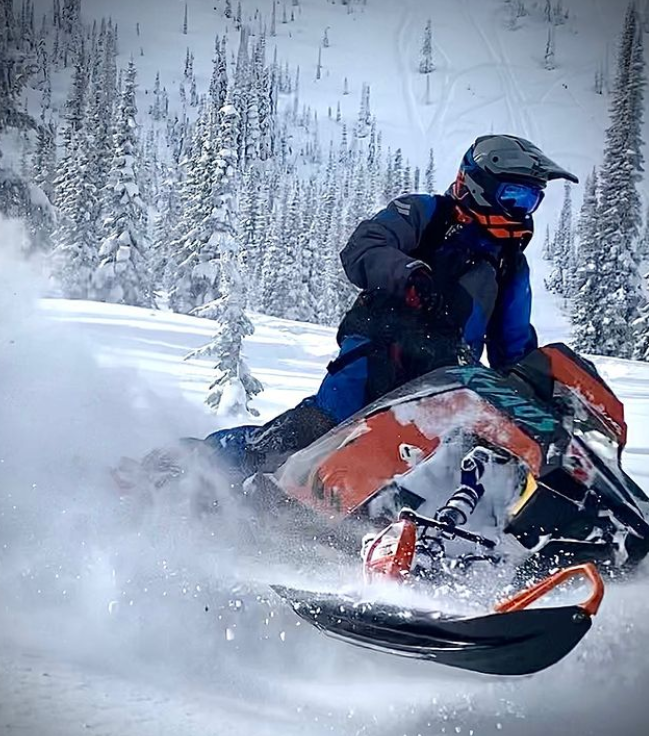 Photo credit: CF_adventurerlife
Q. How did you get into sledding?
I was an avid sledder in the farming community in Taber, because in the winter they have a lot of time. So, for years, we would do day trips to Fernie. We fell in love with the area, and it wasn't until I sold my business (Monarch) that I could afford a second home here. I always wanted to move here but we weren't sure about the family life coming from Taber, so we tried it out for a bit and we just loved it so much. My health is so much better here, not only because of the exercise but also the air quality.
Q. What is the most common misconception about sledding?
People think you just putt around a trail and burn gas - it's so much more than that. It's a culture, it's a community, its families getting out and enjoying themselves, and the places that sledding can take you. It's much more than ATV'ing or mountain biking and it shows you the mountains through such a different perspective. There are a lot of sledders in The Pass who do it to get access to back country skiing or sled skiing, even for remote access to snow shoeing. It's so peaceful out there in the winter. It's also a very active sport, if you haven't been out sledding for a while and go out for one day, you will be sore!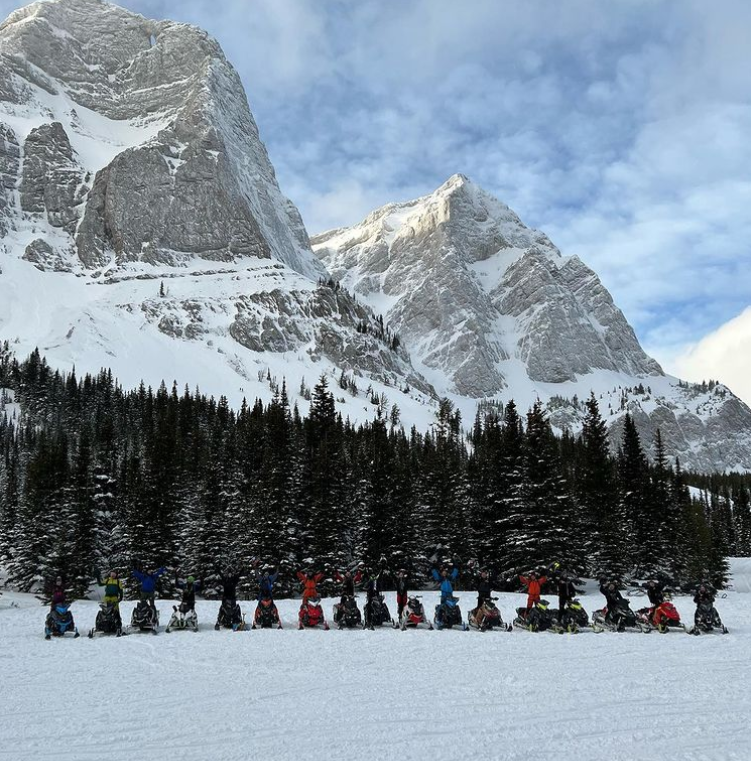 Photo credit: CF_adventurerlife
Q. What's your favourite thing about living in the Pass?
I don't have to drive to do the things I love! There's never a dull moment. Everything is right there, if it's windy I am kiting at the damn, if it's snowing, I am snowmobiling and if it's nice out, I am mountain biking – or we're hiking, we're fishing, the sky is the limit. If you live in the Crowsnest Pass, the word 'bored' does not exist. The phrases 'I am tired,' 'I don't sleep enough' exists, because there is not enough time in the day to do it all. And I think a lot of people don't realize and just drive right through it.
Q. What are your top spots you would recommend for people coming to the area to sled?
The Atlas Stagin Area up near Chinook Lake, and the old shelter – north of Window Mountain Lake. These are great spots for families with kids, where you can warm up, you can have a weinie roast, it's great for everyone. There are flat trails for new riders, or bowls for experienced sledders. It has good variety, something for everyone.
Q. What are a few tips you can give for the green riders?
Find a buddy to ride with that knows the area, and knows snow safety, but just go out and have fun. – Don't put any expectations on yourself, if you get stuck, you'll help each other but just go out and enjoy yourself and you'll slowly grow. It can be a very frustrating sport but it can be very rewarding once you can start throwing the sled around, there are a lot of milestones to achieve. If you're uncomfortable, just say so. If you're scared, say it. The sledding community is a giving and caring community, we're there for each other.
Q. Tell us about your most memorable day in the Pass?
We just got possession of our house and I went biking the next morning and had no clue where to go. I started biking towards Star Creek Falls and the staging area and ran into an older fella and asked him where to go. He said, "why don't you just ride with me?" He took me under his wing, and from that day on we've ridden almost every day together. By him doing that it made me feel like I was home. Now he and his wife come over and hang out with me and mine, and we play games. It's that community-minded type of people that are here living in The Pass.
Q. After a day of riding, are there any restaurants or cafés you try to not miss in the area?
The RumRunner is very well-branded, and the atmosphere inside is great and accommodates sledders. The food is great. And in summer for the bikers, it's the Pass brewery – and I don't even drink, but they've involved themselves in the recreational community by naming their beers after runs and it says we're your brothers and sisters in the sport.
Q. Any upcoming events in the Pass that new or experienced riders should know about?
We've got our yearly fundraising event, the CrowSnow Riders Annual Poker Run on February 19. It's an all-day event, great for families, we're doing a weinie roast and there will be door prizes and a great group to ride with.
If you see Marten out in The Pass, be sure to say hi! He would gladly give you some pointers or join you for a ride.
To register for the Poker Run, you can pre-register online or in person, registration opens on February 19 between 9:30-10:30.
If you would like to donate to Cystic Fibrosis Canada, please visit their website.