Newly Renovated Crowsnest Pass Golf Club: Opening Soon
May 1, 2019
Each spring, golfers everywhere dust off their cleats and practice their swing in anticipation of golf season. This year, there's even more to be excited about because Crowsnest Pass Golf Club is opening a new 18-hole course!
Nestled on the edge of the Rocky Mountains, CNP Golf Club has a brand-new look that is sure to take your breath away.

What to Expect
Opened in 1918, The Crowsnest Pass Golf Club has long been considered a hidden gem among locals and tourists alike. The course is located right in the heart of the Crowsnest Pass, so golfers can tee off surrounded by spectacular 360-degree views of the Rocky Mountains.

There has been a lot of excitement surrounding the opening of the new golf course, and for good reason. Under the direction of architect Gary Browning—a visionary that has designed some of Western Canada's most prestigious courses, including Stewart Creek Golf Resort, Copper Point and Priddis Greens—and the amazing team at Goodwin Golf—the same group that helped renovate The Kananaskis Country Golf Course after the 2013 flood—the expansion is sure to be breathtaking as some of Western Canada's most impressive courses.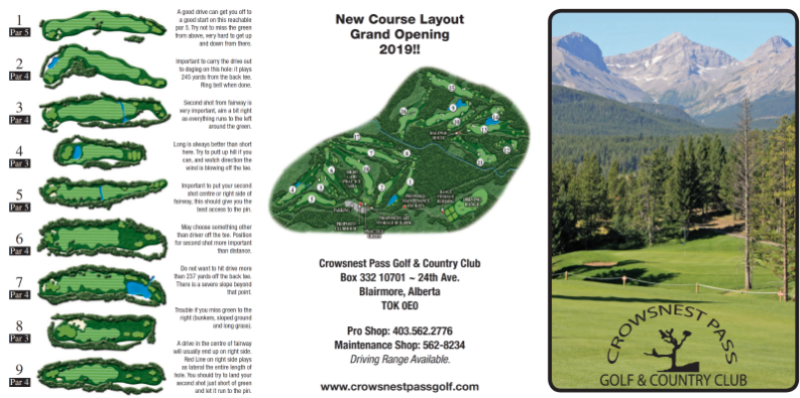 The new course measures 6659 yards from the longest tees, and, with the exception of three holes, golfers can expect an entirely unique experience this season. In addition to the eight completely brand-new holes that are located west of Blairmore Creek, four new holes have opened on the existing course over the last three years. New water hazards and sand traps have also been added, but what really makes this golf course stand out is its exceptional location—right next to the Crowsnest Mountain. According to Head Professional Jason Roth, "Gary [Browning] did an amazing job of ensuring the holes are pointing at the incredible mountain views", and by installing elevating tee lifts.
A brand-new irrigation system will give the entire course a fresh facelift, and with five sets of tees to accommodate a variety of skill levels, the whole family can join in on the fun! If you're looking to improve your swing and make 2019 the year you get that hole-in-one, the club offers lessons with Head Professional, Jason Roth.
Après Golf
The new clubhouse is still in the works, and will feature a wraparound patio with stunning views of the mountains. You'll have to wait until its 2020 open date, but until then, pop into the original clubhouse restaurant and enjoy a cold beer and a chef-prepared meal while you can take in the surrounding vistas and the historic town of Blairmore. The restaurant is open daily for breakfast, lunch and dinner.
Whether you're a seasoned pro, brand-new to the sport, or just looking to enjoy a nice meal in the mountains, there's something for everyone at Crowsnest Pass Golf Club. Book a tee time today!