Uplift Adventures: Connecting you to the outdoors
June 9, 2022
For some, The Crowsnest Pass can be home to many 'firsts'. Like the first time you drive through the Frank Slide and experience, in person, the magnitude of the most devastating rockslide – which changed a part of history in under 2 minutes. Or the first time you live out a fairy-tale dream and stay at Charmed Resorts in The Pass. Or even more simply your first scramble, first summit or first summer spent exploring.
We'd love to help be a part of more firsts. Have you ever thought about backpacking overnight through some of the most scenic or remote trails in The Pass?
"Our goal is to connect people to the outdoors and build their confidence in the outdoors to explore more."

– Heather, Founder & Owner, Uplift Adventures
The incredible team at Uplift Adventures is here to help you find more of those firsts. We spoke with Heather, owner and founder of Uplift. We wanted to know more about Uplift, their backpacking adventures, how she came to realize her passion and answer some questions for those first timers.
---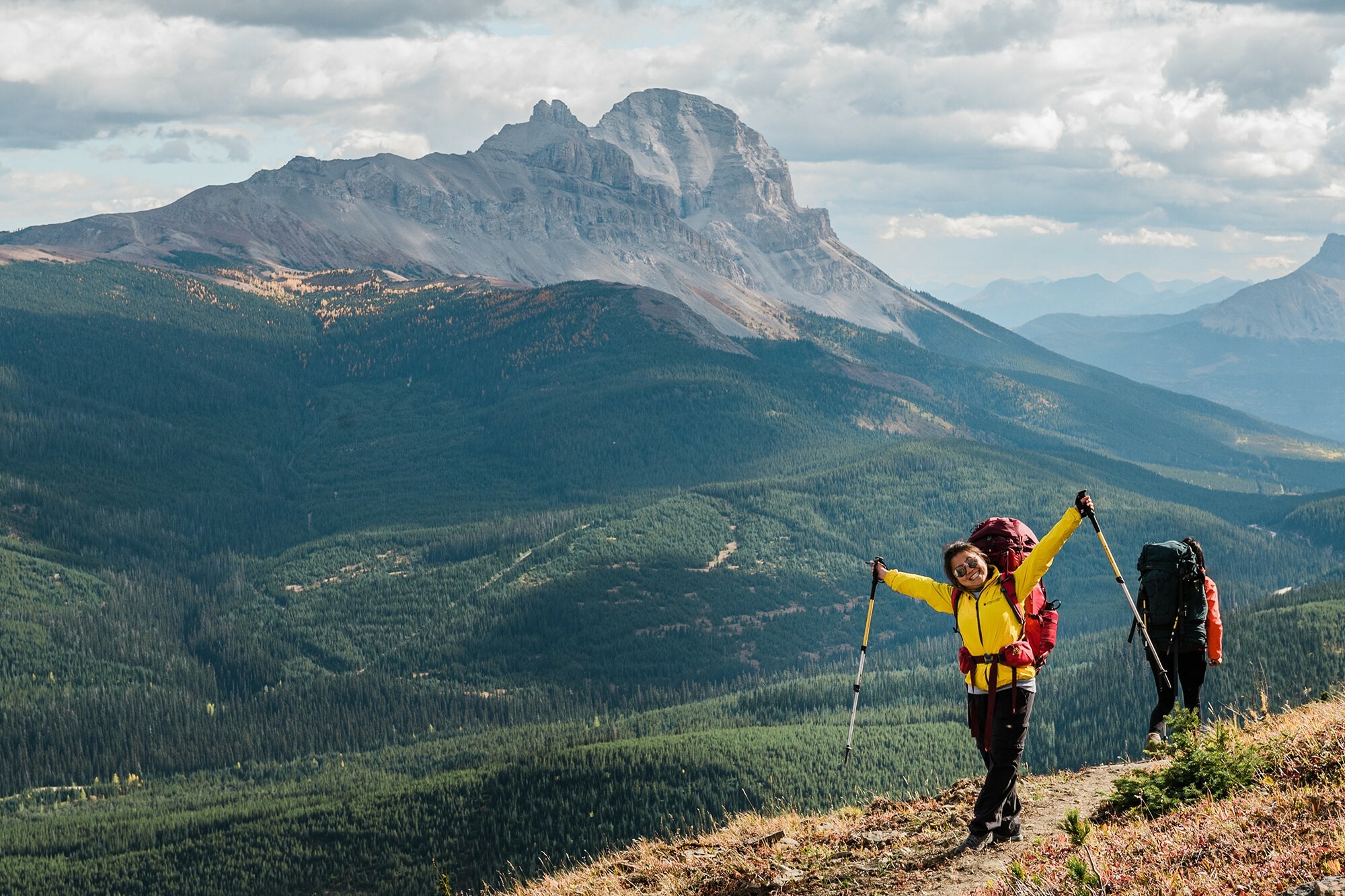 Photo provided by Uplift Adventures
Guided by experience
Uplift Adventures is relatively new to offer guided experiences to the public, but their passion and experience far predates the company's launch in 2018. The company's founder has a background extending into biological and environmental sciences. Heather has worked in some of the most remote settings in Northern AB, BC and SK. She holds a professional outdoor accreditation and has worked with the Association of Canadian Mountain Guides. Needless to say, you're in good hands.
"I first fell in love with the mountains in my early 20s, when I was healing from traumatic events in my life, I moved to Jasper to work for a whitewater rafting company and at a local pub. [It was then] I knew I belonged in the mountains."
And with experience closer to home, Heather led a team in the south through the Backcountry Trail Flood Rehabilitation Program while working with Alberta Environment and Parks in the Crowsnest Pass. Safe to say she knows her way around The Pass.
Q: What is your favourite place to hike or explore in The Pass?
"Every year it changes because when I discover something new, I tend to gravitate to it over and over again. A good beginner area to visit though is Chinook Lake and Allison Falls. The variety around Chinook and the views is always worth a visit. In the summertime, I love finding alpine lakes away from the crowds and off-the-beaten-path. I rarely go to places that can be found on apps and blogs. In the wintertime, I love finding hidden ice falls and good viewpoints out of avalanche terrain."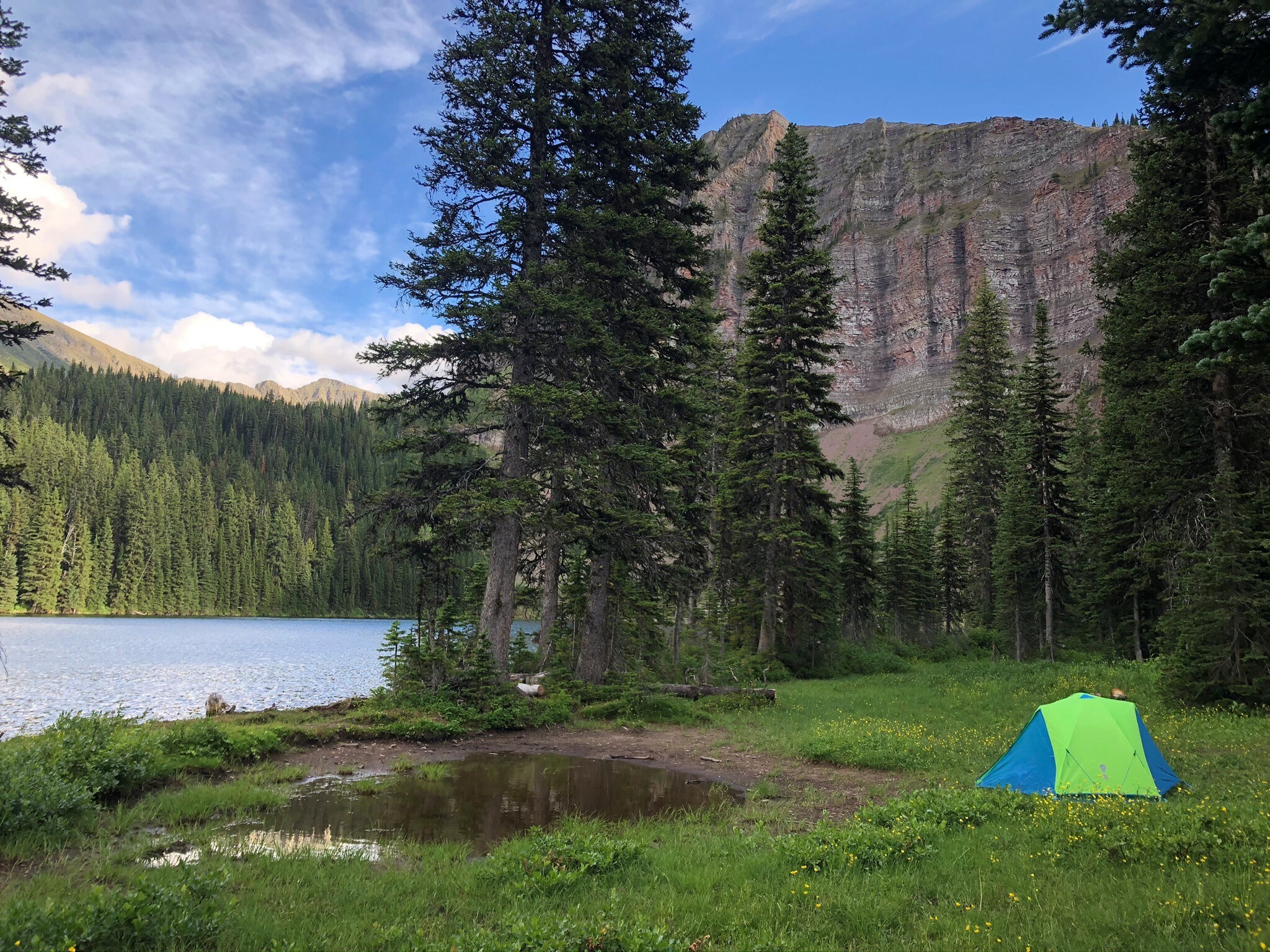 This could be your view! Photo provided by Uplift Adventures.
Q: What would you consider the most technical or advanced area in The Pass you have explored?

"I've been fortunate enough to do a bit of caving in Crowsnest Pass. I've been through the Booming Ice Chas-ism and Gargantua Caves. Caving is definitely something I want to get more into, but it is certainly very technical and if something goes wrong, you can't even use a satellite communication device, so there is a lot of risk involved. I just love exploring and seeing this beautiful part of the Rocky Mountains."
For those of you who may not be ready for your first caving adventure, we asked;
Q: Does Uplift offer backpacking trips for different experience levels?
"Uplift Adventures offers several levels of backpacking trips. Our goal is to connect people to the outdoors and build their confidence in the outdoors to explore more. Our backpacking trips range in difficulty, the Intro into Backpacking trip being the easiest and this is a course to set adventurers up for success with knowledge and the tools to explore on their own.
The most difficult backpacking trip is The Massif which is what it sounds like, it's massive, it's beautiful and it will challenge even the most fit person. The Massif is a 5-day backpacking trip. Then we offer several trips between 2 to 5 days in length."
Q: Overnight backpacking trips can leave you limited on supplies you can carry, what are your favourite top 5 luxury items?
She laughs. "This is a great question. As a professional guide, we often carry much more than our guests and will pack a lot of extra safety gear. I am a super nerd, so I always like to pack a monocular and an external battery pack to make sure the camera on my phone will always work. In the fall time, I will pack some items to make sure I stay warm like a down-filled pair of pants to sleep in and an extra pair of gloves as I find one pair will often get wet. There are a few things that I pack to make my life easier, like cotton and Vaseline for a light-weight and easy Firestarter and a large gravity fed water filter for the large groups."
Q: What's a favourite meal on overnight trips?
"I love a good pad thai when in the backcountry. Spry Active (in Blairmore) sells some backcountry food, such as Happy Yak. It's funny because almost everything tastes amazing when you've been outside in the mountains all day."
Q: After a long multi-day adventure, what is the one thing you most look forward to when you get home?
"A shower."
We would agree. There's nothing better.
---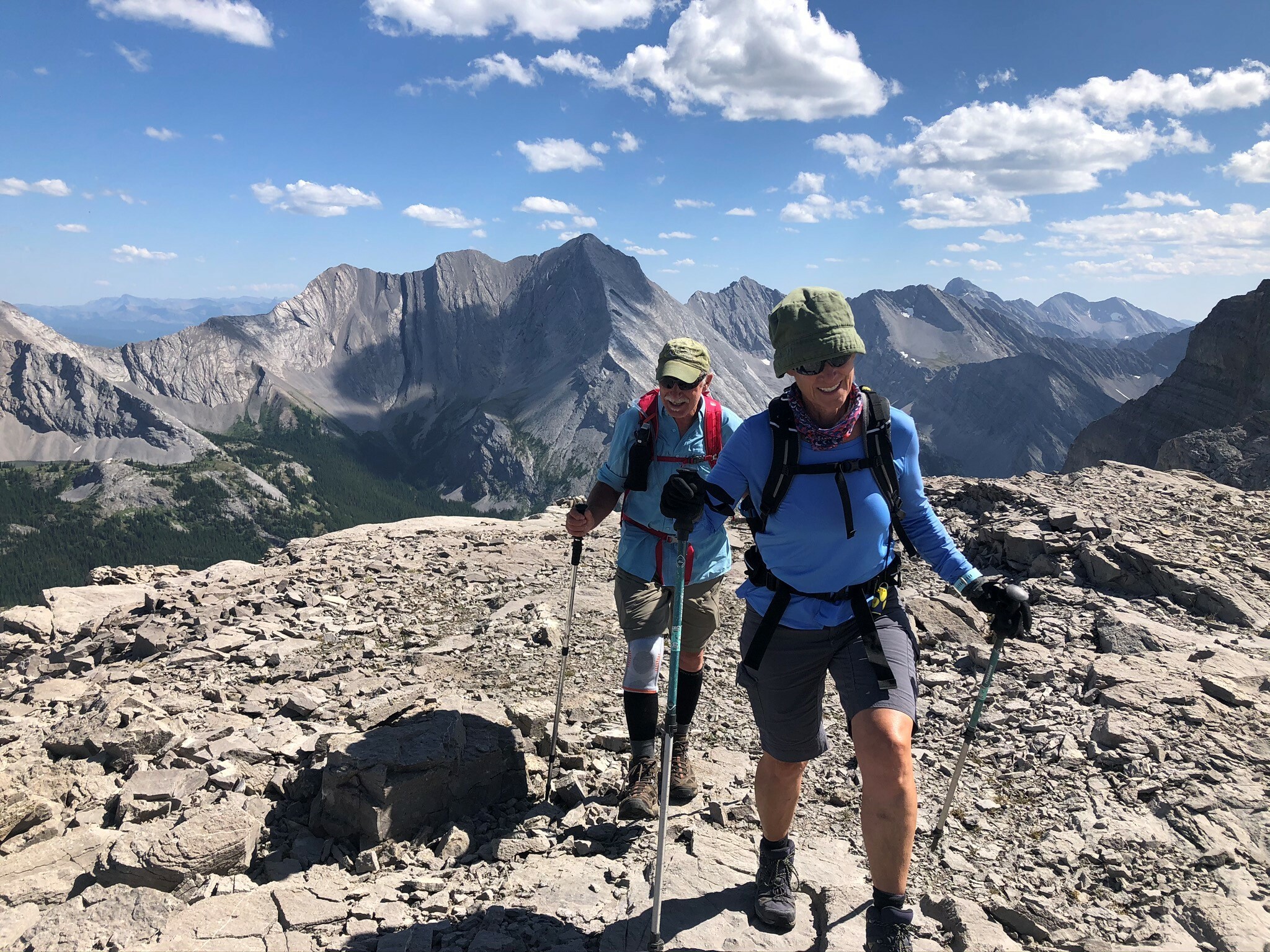 Happy Hikers! Photo provided by Uplift Adventures.
Q: What is one of your most memorable trips in The Pass?

"I absolutely love the Thursday night adventure club trips. I love the people who come on them, and they are always challenging me to create new trips in new locations. This is a more advanced group, so we tend to see how much we can accomplish in a short 4-hour evening.

In terms of personal trips, I tend to love the more extreme trips. Bushwacking and route-finding to remote lakes is a favourite, caving is an absolute favourite, and then once a year I can usually convince my friend at Crowsnest Coffee to do a big off-trail trip. I don't like sounding too extreme though because that is not the intent of what Uplift Adventures does. We love just being outside and connecting all people to the outdoors."
Q: Are you still accepting bookings this summer?
"Yes, we are open for booking. We offer lots of historical tours several times a week, just like going to Frank Slide Interpretive Centre or Bellevue Underground Mines. We have day trips on the weekends in Castle Provincial Parks, and several multi-day backpacking trips. Some of them are already sold out, but there is room on some. We typically run courses in the fall and spring, like Wilderness First Aid and Navigation Courses."

Fueled by passion, mountain air and one kick-ass team
Uplift Adventures is comprised of 13 passionate, certified and highly-qualified guides and instructors. They even have a high-school outdoor ambassador, through a mentorship program and they work with several amazing partners. Heather said, "I absolutely love building a sustainable company to help boost the tourism industry in the area and to provide meaningful employment to others."
We can't wait for you to experience your first or tenth backpacking trip in The Pass with Uplift Adventures. To book your tour and see all the places Uplift offers to explore, check out their website here.
Heather's passion is undeniable, she has shared that they are;
"working towards building Conservation Tourism where we will be creating projects for tourist to adventure around the Canadian Rockies, but a portion of their trip will be working on either a sustainable development or a reclamation project to allow them to explore with purpose."

We're excited to see what she and her team at Uplift do next!

Be sure to follow Heather and the Uplift team on social media @uplift_adventures and tag us both in your next adventure!