Top 10 Things to do in the Pass this Summer
July 7, 2022
Summer has official begun and with it comes endless activities to enjoy with friends, family or by yourself. While the Pass is a hub for summer fun, we've compiled a Top 10 list of things to do this season: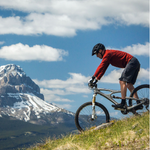 1. Bike Down a Mountain
With a large variety of routes, including leisurely rides through the wilderness and adventurous treks down the side of the mountain, Crowsnest Pass is a mountain biker's dream. Enjoy the thrill of mountain biking at the Pass Powderkeg Ski Hill. From beginner to expert, single track, or cross-country, Pass Powderkeg Mountain has you covered. Check out the bike trails map here.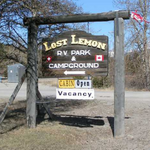 Photo: Lost Lemon Campground
2. Camp at a Haunted Campground
Lost Lemon Campground is famously known for its ghost story. Named after Frank Lemon, a gold prospector who killed his partner Blackjack in the 1870s, the campground offers beautiful scenery as Canada's most southern traveled corridor of the Rocky Mountains, and great recreational opportunities. Take a dip in their in-ground heated pool, or challenge your friends to a game of basketball or volleyball at the court. Check the availability here.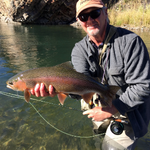 3. Perfect your Fly-fishing Technique
The Crowsnest River offers some of the best fly-fishing in the region, and depending on which section of the river you choose to explore, you might catch a sizeable trout (average fish is 14-16 inches). The river is home to several different species, including the Rainbow trout, Cutthroat, Bull trout, Brook trout, Brown trout or the rarely seen Mountain Whitefish. New to fly fishing? Book a guided fly-fishing trip to the Crowsnest River here.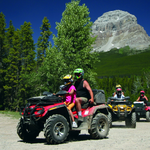 4. Explore the Pass on an All-Terrain Vehicle
Explore the thousands of kilometers of maintained and mapped quad trails in the Crowsnest Pass this summer. Get ready for your adventure by downloading a map here.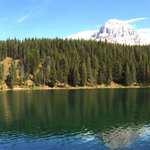 Photo: Alberta Parks
5. Take a Dip at Crowsnest Chinook Lake
Located near the Pass, Crowsnest Chinook Lake offers some of the most beautiful waters in the area. RV-friendly, Chinook Lake is a local favourite. Whether you enjoy swimming, canoeing, kayaking, paddle boarding or simply lounging in the sun, there is fun for everyone. We recommend coming early to snag yourself a spot at this busy destination.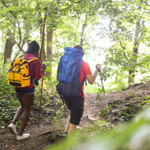 6. Challenge Yourself with an Advanced Hike on the Crowsnest Mountain
This 8 km out-and-back trail located near Coleman is not for the faint of heart. It takes an average of five hours to complete the scramble route. With very steep and exposed sections near the top, wearing a helmet is highly recommended for loose rocks. While challenging, Crowsnest mountain's summit offers some of the best views in the area. Plan your hike here.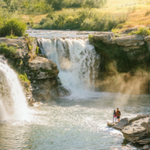 7. Go Chasing Waterfalls
Often compared to Niagara, the Lundbreck Falls offer a powerful display of nature. Fed by the Crowsnest River that flows over a series of ledges, the 12m plunge creates a beautiful waterfall display. Whether you're visiting for the day or camping overnight, there are a ton of activities to keep you busy such as hiking, fishing, swimming, wildlife viewing or picnicking. Don't forget your camera!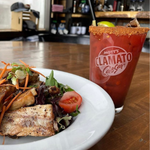 Photo: Tin Dogs Pub and Brewery
8. Cool Down with a Chilled Pint at Tin Dogs Pub and Brewery
Located in Coleman, Tin Dogs Pub and Brewery offers house crafted brews such their Belly Wash Wheat Ale and serving up other Alberta breweries like the local Blairmore Beachfront Cervesa or the Live Tangerously IPA. Sit down and enjoy a flight of their best beers on tap while munching on their famous ribs available in six different flavours! (Available on Wednesdays only). Check them out here.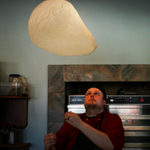 Photo: Black Rock Pizzeria & Bakery
9. Fuel up with Freshly Made Pizza at Black Rock Pizzeria & Bakery
Founded in 2010 by John and Erica Warlow, Black Rock Pizzeria & Bakery offers some of the best pizza in the area. Made from scratch and from the best quality ingredients, each pizza is hand shaped and topped with your favourite toppings by their carefully trained cooks. Their menu features a mix of classic and out of the box pies such as the T.I.A.B.O.A.P. (Taco) pizza, and even gluten-free options! Check out their menu here.

Photo: Bellevue Mine
10. Tour the Bellevue Underground Mine
Travel back in time and walk in a miner's footsteps at Bellevue Underground Mine. The exciting hour-long tour will take you 1,000 feet into the mine and 150 feet below the surface. Guided by Heritage Interpreters, you will learn about the rich history of one of Canada's underground coal mines. Plan your visit here.